Tutorial #3 - Importing & Building Your Client Database
Importing & Building Your Client Database
In this tutorial, we focus on your most valuable business asset – YOUR CUSTOMERS. In A-ListPro, we call them Clients. Every client is important and your mission should be to make sure that every one of them is a stark-raving lunatic fan of your business. To do that, you need to provide outstanding, dependable, frictionless service that exceeds their expectations. And to do THAT, you need to have a detailed, always accessible and up-to-date client database. So let's get started.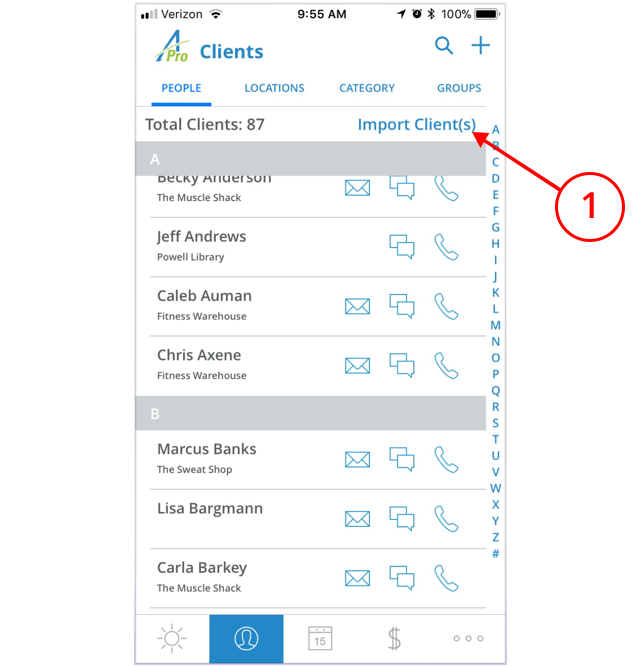 Import Clients
A-ListPro lets you easily import clients from your iPhone contacts. Start by tapping the "Clients" icon (second from the left) on the navigation bar, then tap the "Import Client(s)" button in the upper right. A-ListPro will display an alphabetical list of every Contact from your iPhone's address book, allowing you to scroll through the list and tap on each name that is (or could be) a business client. You may also use the Search bar to find specific clients. When tapped, a checkmark appears to the left of the contact name indicating that they've been selected for import. When you've selected all of the desired Clients, hit "Done" and A-ListPro will import these Contact records into your Client list.
Tapping on any Client in the list brings up the "Client Profile" where various actions are initiated (scheduling a service, processing a payment, adding client data) and all client information is stored. Under the Client Name, we display their Preferred Service Location and Client Category, current balance due and more. Tap the "Edit" button in the upper right to access the "Client Detail" screen and add, edit or delete information as needed.
Note: All imported Clients are automatically assigned to your default industry / business. If you have set up multiple industries / businesses in A-ListPro, you can assign any Client to an alternate industry / business from the Client Detail screen. In the next tutorial, we'll explore the Client Profile in greater detail and begin scheduling client services.
Your clients really are your most valuable asset. Treat them that way and your business will thrive. The more organized and knowledgeable you are about each of your clients, the more satisfied they'll be with your service and the more willing they'll be to buy from you again and again.
As always, if you have any feedback, comments, questions, suggestions, wants, needs or demands, we are here to help. Click or call - support@alistpro.com or 614-306-2105.
Sincerely,
Jeff Johnston
Founder / CEO
jeff@alistpro.com